Here's today's roundup of science, nature and environment news from the Bay Area and beyond.
Researchers pinpoint antibody critical to fighting flu
Wilson Lab/ Scripps Research Institute Researchers have discovered an antibody (in red) that neutralizes the flu (in blue). Sifting through thousands of proteins, researchers have identified an antibody that not only prevents the influenza virus from taking hold of its victims' cells, but also cures already infected animals.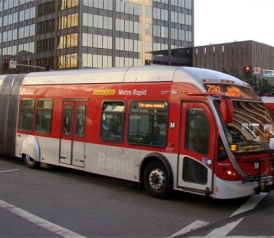 How Los Angeles-Yes, Los Angeles-Is Becoming America's Next Great Mass-Transit City
On a recent visit to Southern California, I began my day in Claremont, where I'd spoken the previous evening at a Pomona College event. I walked from a hotel near campus to the Claremont Metrolink station, where I grabbed a commuter rail train to Union Station in downtown Los Angeles….

California salmon fishermen see improved, though not stellar, 2012 season – ContraCostaTimes.com
Click photo to enlarge It didn't live up to eye-popping preseason forecasts, but the 2012 salmon season represented a marked improvement for embattled California fishermen. With the season ending in two weeks, the Pacific Fishery Management Council released a preliminary estimate Saturday of this year's catch of Chinook salmon, whose population plummeted so far just a few years ago that the 2008 and 2009 commercial seasons were canceled to protect the species.

320 tons of debris removed from state's waterways during California Coastal Cleanup – San Jose Mercury News
From foggy Ocean Beach in San Francisco to the creeks of Silicon Valley to the baking hot beaches of sunny Los Angeles, tens of thousands of Californians turned out Saturday to pick up mountains of trash at 850 locations across the state.

NASA postpones final ferry flight of EndeavourCAPE CANAVERAL, Fla. (AP) – The beginning of space shuttle Endeavour's final flight to California has been postponed because of weather along the flight route. NASA had planned for the 747 carrying the shuttle to take off from Kennedy Space Center on Monday. The flight is now scheduled to take off at sunrise Tuesday.

Endangered mountain yellow-legged frogs might get a hoppy ending
To reach one of the last wild populations of the mountain yellow-legged frog on Earth, Adam Backlin and Elizabeth Gallegos tramped down a no-nonsense trail, scaled cliffs and barged through nettles along a vein of water in a scowling canyon deep in the San Gabriel Mountains.

Researchers Pinpoint Antibody Critical To Fighting Flu – 9/17 KQED Science News Roundup
2 October,2015
Jenny Oh